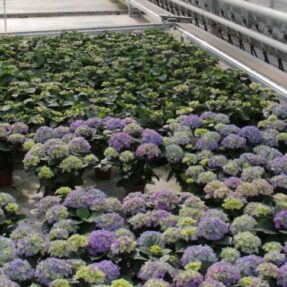 Conveyor belt system
Kwekerij Dijk van Dijk
Kwekerij Dijk van Dijk in De Lier has opted for a conveyor belt system from Martin Stolze for the propagation of hydrangeas. The system comprises three fixed main belts measuring 97 metres, 60 metres, and 104 metres, past the façades and loose conveyor belts in the cap, so that this can transport the plants to the next cap.
Each main belt can be adjusted separately with regard to speed and rotation direction via a central control panel. A motorised belt bend is placed at each conveyor belt transition so that the appropriate insertion point for the plant can be established. A wireless manual transmitter enables the system to be started and stopped anywhere in the greenhouse.
Dijk van Dijk will primarily use the system to accommodate plants for full-grown plants, but thanks to this variable system, it can very easily be changed to accommodate propagating plants and/or moving the plants from one hooded conveyor belts to another.