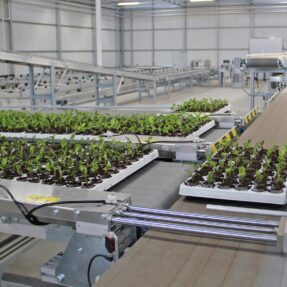 Processing line - delivery system
Valstar Young Plants
For the efficient processing and delivery of young plants Jörgen Valstar, director of Valstar Young Plants BV. in Maasland, went looking for a partner who help him come up with ideas for the complex logistics of these processes. Jörgen Valstar: "During the preparatory phase, I spoke to 3 parties about this project, but the other parties didn't really understand what we needed. Martin Stolze BV. did and they even thought up ideas together with us about how to do it even better. They are basically skilled people that understand how things work." Ultimately, Valstar chose a system where the trays with the young plants are transported, distributed, and buffered on a network of conveyor belts. The system is controlled at PLC level where the identity of the trays is guaranteed by means of a QR code on each tray.
Operation of the system
The process starts with applying and checking the QR code on the tray. After the tray is filled with paper pots, the cuttings are inserted in them. The QR code of each tray automatically links to the plant species, insertion date and the employee via the workstation. In addition to the information that is needed for operation (determining the destination), the information stored in the QR code also forms the basis of a comprehensive registration system. When, after cutting, enough trays have been collected in one of the buffer conveyor belts of the return buffer, they are placed on a cultivation container by a placement robot. The information about the trays is transferred to the container and stored in the software system of the container system and in an external database.