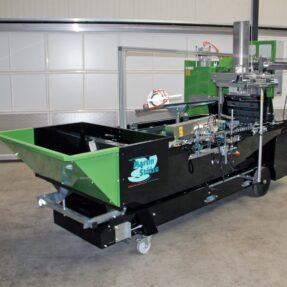 Stolze Potting Machine 3030
Isa Tasveren
Tasveren chooses Stolze Potting Machine 3030
Isa Tasveren, owner of the company of the same name, has a potting company in addition to a nursery. Because Tasveren wanted to be of service to various growers who have a variety of crops, he searched for a potting machine which could fulfil all his requirements.
Tasveren already had a used, ex-rental machine from Martin Stolze BV. He liked it so much that he has now invested in a new Martin Stolze Potting machine type 3030. The machine is not only made in Tasveren's own corporate colours, but also includes many useful options. Isa Tasveren: "The potting machine type 3030 is a very reliable machine that does exactly what we were looking for".
Easy operation and many options are available
The potting machine type 3030 is very easy to operate.  At its centre is a touch screen on which all settings are entered and read out. The rotation speed (capacity) and the soil supply are steplessly adjustable and things like, for example, the number of pots processed, the current rotation speed and the number of pots still to be processed are displayed.
In the event of a malfunction, this screen shows the relevant component with a photo, making it possible to solve the problem quickly. The accompanying text is also available in several languages.
The pot holders and the different drills are interchangeable and are available in many sizes, in a single or double design.  You can also turn to Martin Stolze BV. for associated products, such as a BigBale dosage bunker or conveyor belts for removing filled pots.