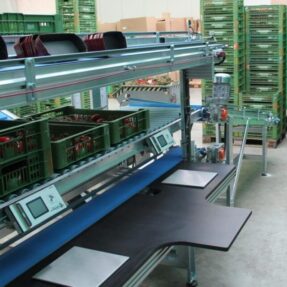 Packaging line
Vine tomatoes
For this customer, we installed an ultra-efficient packaging line for vine tomatoes.
One person places the full crate of tomatoes are placed at the front. The crates are then sent into the supply line, so the packers can grab a full crate at their workstation. The empty trays are also supplied from the front so that they are accessible from the workstation. When the crate is empty, it can be placed on the top conveyor belt, which transports the empty crate back to the front.
A scale is built into the worktop at each workstation, on which the trays are weighed before they are put on the conveyor belt which runs past the workstations. From this belt, the trays are sent to the flowpacker. Any waste can be swept through a gap in the worktop via a chute onto the waste disposal conveyor belt, after which it disappears directly into a container via an elevator conveyor belt.
By setting up this whole process of supplying and clearing from one central point, the amount that the packers need to move is minimized, because they do not have to leave their workplace and are then able to focus purely on packing.