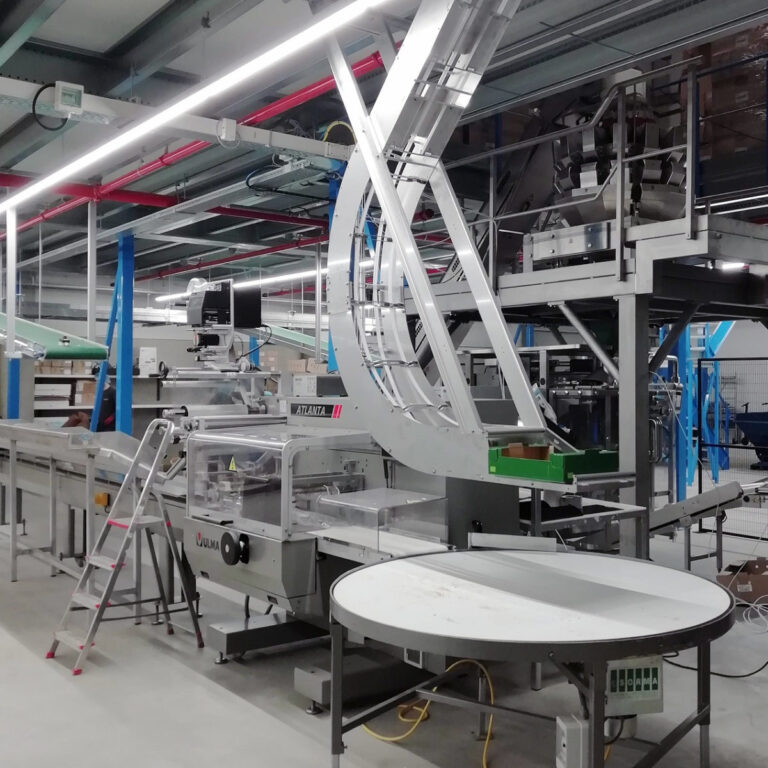 Conveyor belt system
Trofi Pack
Trofi Pack is a service company for packaging, repackaging, cooling and ripening vegetables and (tropical) fruit. In the new company building in Den Hoorn (ZH), they chose Martin Stolze BV as supplier and installer for a conveyor belt system designed for the supply and removal of empty (cardboard) packaging.
Supplying packaging material
Near each machine line (10 pieces), a complicated stainless steel chute structure has been installed by which new boxes are brought from the attic to the workstations.
Removal of packaging material
In addition, there is a conveyor belt from each machine line that connects to one of the two central conveyor belts for the removal of old packaging. This network of conveyor belts is suspended from the attic structure for unimpeded passage and ends in the compactor next to the building. This way, the old packaging is removed efficiently and quickly, without any inconvenience or the need for intervention by employees.
Marcel Broekhart of Trofi Pack: "We chose Martin Stolze because of the price/quality ratio. The collaboration was perfect and the end result was even better. We definitely recommend Martin Stolze!"