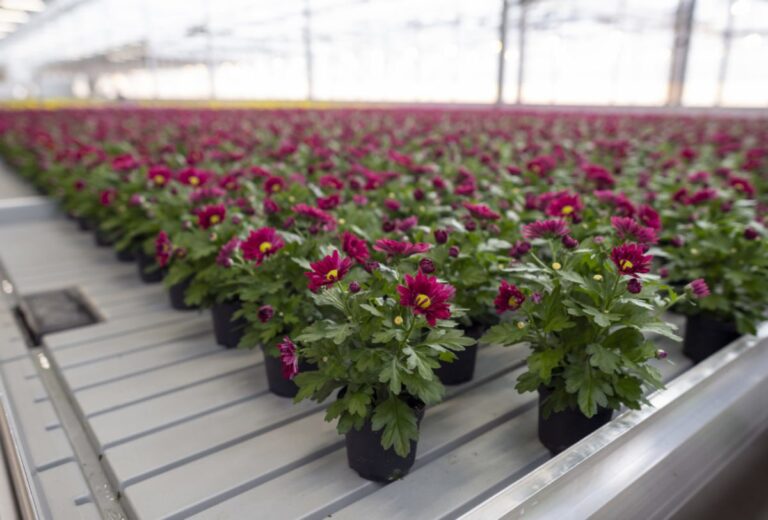 Roller conveyor buffer systems
SV.CO
Roller conveyor buffer system
A stock of plants to be delivered, sorted, that are well-organised and within reach? With a roller conveyor buffer system from Martin Stolze, this is achievable. A roller conveyor buffer is custom work. The available space, the required amount of stock, how much is sorted, the dimensions of the plant, and the type of tray all influence the design. Martin Stolze processes these requirements and combines this with the technical side of things such as the roll diameter, roll width, roll pitch size, angle of inclination, etc. There are also options for automatic inputs.
By means of a conveyor belt equipped with pneumatic suction on the input side, the trays or boxes can be sent to the correct roller bed conveyor belt in the buffer fully automatically. With the help of sensors and software, it is possible to view the content, which provides a quick insight into the stock. The roller conveyor buffers from Martin Stolze are available in many different versions. Mounted to the floor or on a wheeled undercarriage. Long, short, wide or narrow. One, two or even more layers on top of each other; a lot is possible.
SV.CO
The recently completed project at SV.CO is a fine example of an efficient roller conveyor buffer. We installed two roller conveyor buffers for this grower of potted Chrysanthemums, Kalanchoe, and Poinsettia, in their new nursery in De Lier. A roller conveyor buffer comprises 35 roller conveyors 18 meters in length, and is automatically filled from the sleeving machine. A second buffer consists of 26 roller bed conveyor belts measuring 12 metres in length and is used to buffer plants which have been picked up manually.
Both buffers (good for approx. 3,500 trays, with a total of approx. 30,000 plants) serve as a stock buffer where different varieties in different assortments are ready for delivery. The buffer ensures a quick response time for the grower. Allowing for short delivery times with a minimum of effort and commotion in the nursery.